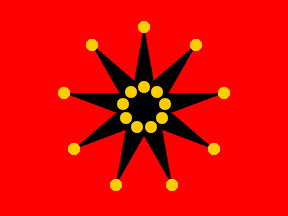 Chinese Republic Army flag 1911 -1928
The Wuchang Uprising was an armed rebellion against the ruling Qing dynasty that took place in Wuchang (now Wuchang District of Wuhan), Hubei, China on October 10, 1911, which was the beginning of the Xinhai Revolutionthat successfully overthrew China's last imperial dynasty. It was led by elements of the New Army, influenced by revolutionary ideas from Tongmenghui. The uprising and the eventual revolution directly led to the downfall of the Qing dynasty with five millennia of imperial rule, and the establishment of the Republic of China (ROC), which commemorates the anniversary of the uprising's starting date of 10th October as the National Day of the Republic of China.
The uprising originated from popular unrest about a railway crisis, and the planning process took advantage of the situation. On 10 October 1911, the New Army stationed in Wuchang launched an assault on the residence of the Viceroy of Huguang. The viceroy Ruicheng quickly fled from the residence, and the revolutionaries soon took control of the entire city.
The New Army became known as the Chinese Republic Army.
Adapted from Wikipedia.